Sunday, October 21, 2007
The Prudential Center
Season ticket holders were invited to visit the Prudential Center today to check out the new arena, check out their seats, check out the bathrooms, check out the food prices, check out the general atmosphere, and to get autographs from the Devils players and coaches. Naturally, I took that invitation. Here's a short review of the arena.

My only criticisms of the arena is that the section numbers are a bit hard to immediately see and the men's bathrooms only have 3 toilet stalls. I don't know about the women's rooms, so don't ask. Yep, those are my only complaints. That's it. Really. Because everything else about the arena is absolutely fantastic! It's like the designers took what was good about Continental Airlines Arena, put that in this arena and improve everything else. This is truly the Devils arena, the logo is everywhere, the Fire & Ice bars seem well set up, there's Devils art (and one
amazing
mural) that looks good, the general architecture is fresh, and the sightlines are absolutely great from everywhere in the arena. But don't take my word for it.
Take it from the last row in the arena: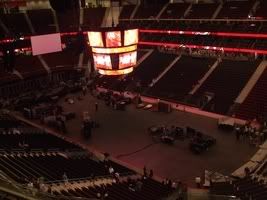 From rink-side: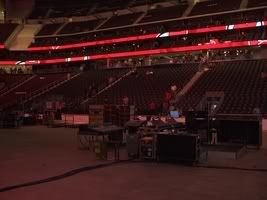 And from where I'll be seeing the action for this season: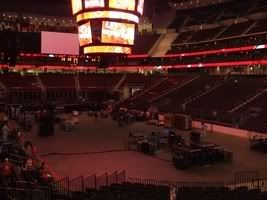 I got plenty of more pictures, including pictures of myself with the players and coaches I met. I thank them all for coming out to sign shirts, jerseys, pieces of paper, and taking pictures. But the biggest highlight for me? Well...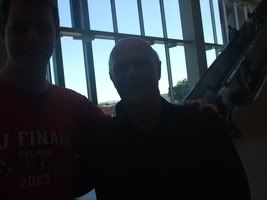 I met Lou Lamoriello! And yes, I thanked him for all of this - the Devils success and the new arena and for being the reason I named this blog In Lou We Trust. Yes, I shook his hand and it was so regular yet with a quiet power underneath. If only the expletive flash went off and there wasn't such a back-light, this would be a much, much better picture. But it made my day and likely even the next 4 days.

Labels: Devils Issues, Media, Personal/Site News, Prudential Center