Friday, June 20, 2008
Mattias Tedenby
John Carlson was available at 21, but the Devils traded down to 23. John Carlson was available at 23, but the Devils traded down again to 24. With an extra second round pick in this year's draft and an extra third in next year's draft, John Carlson was there. The New Jersey native who is a Devils fan, lists Scott Stevens as his favorite player, and is projected as an offensive defenseman was right there. Ready to be picked. And Lou gives David Conte the podium and announces...
Mattias Tedenby.
At first, I wasn't particularly happy because I convinced myself that should Carlson be there, that's who I want for New Jersey. Then again, the Devils have professional scouts and all I have is second hand information. Upon considering the pick while waiting for the train, I'm starting to grow into the pick. Fortunately, I was able to snag a free copy of The Hockey News' Draft Preview magazine at the draft party (more on this tomorrow), providing me ample time to read up on who they think the top 60 prospects are. THN rates Tedenby at 16; and the only groups that had Carlson ranked higher than Tedenby is at TSN -
which conveniently lists the rankings for comparison
- and McKeens.
Tedenby is highly praised in scouting reports, such as
this profile at Eliteprospects
, for his speed, fearlessness, and his overall offensive skill (stickhandling, scoring, etc.). Clearly, he's a skilled forward and you can't have too many of those in the system. Likewise, the common knocks on him are the fact he's 5'9" and 165 lbs. and his defensive awareness is lacking. Well, the Devils generally select the best player available regardless of size - like Brian Gionta and Zach Parise - so I don't think the size was a deterrent. Plus, there's any team in the world that will drill defensive awareness into a player, it's New Jersey. Given that Lou traded down twice, this is clearly the organization wanted and got two extra picks for their effort. OK, so it made me take a train about an hour later than I'd like, but in a few years, that minor inconvience will be well worth it.
But enough words, check out these two 5 minute-ish videos of Tedenby doing the thing that got him drafted tonight.
This one features him with the Swedish national team
(I assume U-18s) and
this one features him on HV71.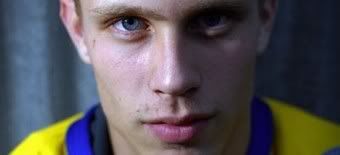 Welcome to the New Jersey Devils organization, Mr. Tedenby. May you still gaze that gaze in Newark in the coming years.
Labels: 2008 Draft, Devils Prospects, Hockey - General, Prudential Center