Saturday, June 21, 2008
THN Draft Previews are Entertaining
If you were fortunate enough to get to the Devils draft party early enough, you were able to get a free copy of the 2008 The Hockey News Draft Preview. It's a smart move by the organizers as it gives people like me something to read before the Devils' pick, something to follow as 17 and 18 year old hockey prospects are being picked, and something that provides some unintentional entertainment.
First, there are the photos. Seeing young players A) trying too hard to smile in their team photos ( e.g. Michael Del Zotto), B) looking surprised (e.g. Colby Robak), C) trying to look serious and tough (e.g. Zach Boychuk), or D) the rare not-even-a-hockey-related-photo (e.g. Anton Gustafsson). The best photo was THN's #37 ranked prospect, and now Calgary Flame, Mitch Wahl. They took his Spokane Chiefs photo which leads me to believe he is actually a throwback to the 1950s NHL.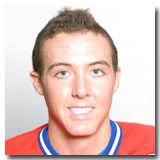 Impressive.
Second, the write-ups themselves. Alan Adams had an article before the prospect profiles detailing why NHL teams are wary to pick Russian prospects due to a lack of the transfer agreement between the Russian Hockey Federation and the NHL. Alexei Cherepanov slipped to the Rangers at 17th overall, a travesty according to Pierre McGuire, because of this. Flip two pages ahead to Nikita Filatov's profile and the first quote read "Russian teenager Alexei Cherepanov tumbled on draft day last year more because of his effort and character than the NHL's problems with the Russian federation." THN is totally on the same page here, good times!
Here are some more fun quotes from scouts and the profiles and some wonderful comparisons My comments are in italics:
THN #6 Luke Schenn - "'He's not as good as those other guys [Drew Doughty, Alex Pietrangelo], but he plays with more of an edge, ' a scout said. 'To me, he's Brendan Witt-plus.'"

Yep, if you're a team picking in the top-10, you're looking for...a Brendan Witt like player.



THN #11 Kyle Beach - "'This guy could be the best player in the draft,' one scout said. 'He's Own Nolan. Yeah, discipline is an issue for him. But was discipline an issue for Claude Lemieux?'" A more logical statement would have been whether discipline was an issue for

Owen Nolan

?
THN #16 Mattias Tedenby - "Size is undoubtedly an issue [Note: this is a common theme in this draft preview] when it comes to Tedenby, but scouts who have watched him wonder if they're not watching the next Saku Koivu...or the next Martin St-Louis...or the next Mats Naslund."

And later we get a scout saying he's got some Paul Kariya in him. Four comparisons! That's the most in any of these profiles. Good times! Thank heavens they didn't bring up Rico Fata...
THN #28 Tyler Cuma - "'He's good offensively, but not dynamic,' a scout said. "And he's good defensively, but he's not 6-foot-4.'"

Wow. I'm still wrapping my head about the knock on his height. He's 6'1", he isn't small. Still, the profile highlights that he's just good all-around and doesn't have an elite attribute. Get excited Minnesota! This is who you traded up for!
THN #47 - Kristofer Berglund - "Berglund has been passed over in not one, but two, NHL drafts, but that won't be the case after an impressive WJC for the silver medal-winning Swedish team and some progress with his club team."

Well, THN was right. Berglund just got drafted by St. Louis. In the 5th round, 125th overall. That's not even the biggest reach by the magazine.
THN #50 - Joel Champange - No quote, but THN has him at #50, the International Scouting Service has him at #151, and Champange just got picked at 129th overall by Toronto. Oh, THN...
THN #60 - Kelsey Tessier - "The main thing separating Tessier from the other small, talented forwards in this year's draft is skating. The ones rated higher are terrific skaters, Tessier not so much." That's

the first two sentences

of his profile - ouch. That's not good for anyone. Tessier did fall out of the first two rounds, going in the fourth to Columbus.
And now the best quote - THN# 29 - Zac Dalpe - "'Travis Zajac went 20th in his draft year and he should have gone 10th," one scout said.

What?!

Travis Zajac as a top ten talent! I know 2004 wasn't as deep as 2003, but saying he should have been selected ten picks earlier is bizarre. This is the same Travis Zajac we're talking about here, right? Maybe this scout is from an alternative universe where Travis Zajac is the new Anze Kopitar?

The last area of entertainment and head-scratching reading comes from the team-by-team sections. They have a little 10-year draft review where they list the team's top 5 shrewd picks and the top 5 that weren't so shrewd. Naturally, the former are later picks that turned out well and the latter are earlier picks that didn't meet expectations. - and are the focus of joy and sadness. Re-live the fact that Stanislav Chistov went 5th overall, Rico Fata went 6th overall, and Adrian Foster being drafted at all! Though some of those listings just seem impatient - you can't say that Logan Couture was a not-so-shrewd pick since he was drafted
last year
. That said, the Rangers list is an exciting list of Pavel Brendl, Jamie Lundmark, Hugh Jessiman, Manny Malhotra, and Alvaro Montoya. Bizarrely, Detroit only has two players listed in that spot. I know they draft well, but if they're going note Benoit Pouliot as not a great pick, you can't ignore Jakub Kindl.
Criticisms aside, it's a good guide to have at the draft if only to have some knowledge of who's being picked. OK, it doesn't have the panache of the TSN TV coverage, but we don't need a magazine having the equivalent of Pierre McGuire yelling "That was a
gigantically positive decision
!" or stating how he loves every pick. Then again I imagine him yelling at lunch, "A ham sandwich? Oscar Meyer, YOU are a McGuire Monday MONSTER."
Labels: 2008 Draft, Hockey - General, Media
Comments:
John, you can knock Zajac for last year but that was technically his senior of college if he'd have stayed. So, give him some time. Zajac reminds me a lot of Rolston, who took some time (w/o as dynamic a shot).
Post a Comment
<< Home