Wednesday, February 27, 2008
Why I Love the Salvador Trade
I love this Janssen for Salvador trade. I said as such yesterday and
again at Slap Shot (thanks for fixing my name).
But there are two main reasons as to why I do love it.
First and foremost, the Devils traded someone who has played 0 games this season, had an average ice time of 4:05 a game in the 48 he played last season, and has two major skills: throwing big hits and fighting. Neither one of the two are things the current Devils lack considering players like David Clarkson, Mike Rupp, Aaron Asham, Vitaly Vishnevski, and Sheldon Brookbank. In return for this guy, the Devils get a player who has played very well for St. Louis, has the third highest ice time on average among defensemen and the team, he can play the penalty kill, and add another defensive defenseman who can hit pretty hard. That's an incredible haul for someone with limited skills like Janssen. OK, so Bryce Salvador won't be a cult hit like Cam; but the Devils didn't need Cam so it made no sense for him to stick around.
Second, Bryce Salvador has something the Devils defensemen don't have much of: playoff experience. For this, I need a chart (numbers from
NHL.com
).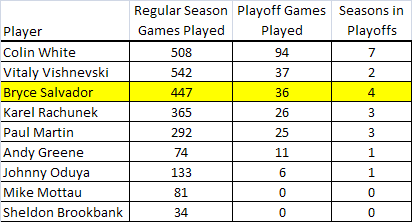 Now, there are some things to consider with these raw numbers. Vishnevski has that many playoff games due to Anaheim going deep in the playoffs in 2003 and 2006. Mottau is pushing 30 despite so few games played. Rachunek has been around a lot longer than you think. And two of the Devils' defensemen has seen no action in the playoffs - with Greene and Oduya only getting their first taste last season. In the playoffs, the game becomes much more defensive with every attack becoming more dangerous. This makes sense, since the stakes are higher. Therefore, having additional experience on defense is a wise move. They've been there before, there won't be that much they haven't seen, they'll have an idea on how refs will look at the game, and they can provide additional guidance for those who haven't been there as much. As long as Salvador plays decent hockey, his experience will be a big benefit come April and May.
Now, why didn't the Devils make a move for a big scoring forward or a big player from the point? Well,
look at who was traded.
San Jose saw no need to move Patrick Marleau given their current form and Florida doesn't want to give up on the season by trading Olli Jokinen. Brad Richards, Brian Campbell, and Marian Hossa all commanded fairly substantial deals that meant Pittsburgh, Dallas, and San Jose giving up some of their future. Granted, those three teams are much better now and fans of those teams tend to agree according to Slap Shot (
here
,
here
, and
here
), but the Devils clearly didn't want to pay whatever those teams wanted. Deals involving those players that would have benefited New Jersey weren't there. Yes, all three would have been good in helping out New Jersey's offense; and a trade to bolster the offense would have been a good idea.
However, there is such a thing as giving up too much. I, for one, would not have liked to have see New Jersey give up, say, Brian Gionta, Vitaly Vishnevski, Nicklas Bergfors, and the Devils' first round pick in 2008 just for a few months of Marian Hossa. The Penguins, Stars, and Sharks will all have the fun of trying to keep those players should they prosper or trying to justify the deal should they not prosper or go deep in the playoffs. I surely wouldn't want the Devils to swing for the fences and find out a few years later that it was a pretty poor decision.
Therefore, I think it made sense for Lou to address an underlying, in-the-shadows need by giving up very little for a player who can provide quite a bit. It's a great move for that alone. As far as offensive production goes, the Devils have found great success with scoring-by-committee in the past and during this season. Why should this year be any different?
Labels: 2008 Season, Devils Issues, Hockey - General
Comments:
John, I guess I feel we are talking about two separate issues here.
I agree with you that Salvador for Janssen is a fine move, for all the reason you listed. It might even be a bigger "umph" for our team, then first thought.
What I'm suggesting is, and please tell me if I'm wrong, because re-reading that CBA the other day just screwed me up further.
We ultimatley won't know what Buffalo wanted from NJ, for Campbell. Say it's equal to what SJ gave up to get him. A 3rd line RW, and a 1st RD Entry Draft pick. So we give up Asham and a 1st RD pick, which one I don't know, but outside of the first 5 picks, I'd say it's a bit of a crap shoot anyway.
I'm unaware of any rule that says you can't trade for a player, and then follow that up with a contract extension. Essentially, the traded player's contract (SPC), is the property of the team he is traded to. Outside of him not wanting to negotiate a contract, and why would he agree to a trade in that position in the first place, I can't see a reason not to try and trade and sign a guy like Campbell? He's a Top 4 D, and should be, for years to come.
Again, I'm not suggesting we go after a mercenary, like Hossa. We don't want, or need that on our team.
But if you can get a legit guy, you are virtually assured of signing long term, why not do that?
Top 4 D, and a Point man. They don't grow on trees, last I checked, and the trade deadline is perfect, because a team like Buffalo, is desperate to move him, because they know he won't sign with them.
Just my thoughts on this, I guess.
Post a Comment
<< Home