Thursday, April 24, 2008
Calder Followup
Yesterday
, I said the following:
Leading scorers, I think, have an edge in the rookie of the year race
Well, upon hitting the "Publish Post" button I realized that I based that thought on, well, nothing but perception. Therefore, I decided to do a little research. And let me tell you, trying to figure out the winners of the Calder Memorial Trophy is quite easy.
Wikipedia has a full list of every player who has won it since 1933.
From Carl Voss to Evgeni Malkin. However, trying to figure out the leading rookie scorers from each season - not so easy.
NHL.com
only goes back as far as the 2000-01 season. Sites like
HockeyDB
that compile stats from as far back from the beginning of the NHL only has the top ten scorers. The leading rookie scorer and/or the rookie of the year isn't necessarily (or often) on that top ten list. So I had to, uh, equivocate.
Wikipedia has a solid list of all the NHL All-Rookie Teams since the 1982-83 season
, when such a team was first announced. My logic is simple - the leading rookie scorer
should
be on the All-Rookie Team. And even if they weren't, if I found someone who scored more points than the Calder Trophy winner, that would suffice. It would certainly be an odd omission, I think, if the leading rookie scorer wasn't one of the top rookies of the season.
As an aside, some of those teams are interesting to say the least. Apparently, Kevin Todd made the 1991-92 team. Yes, former Devil Kevin Todd. You know,
Kevin Todd
. You have heard of him, yes? Maybe? Other Devils to make this team include Eric Weinrich, Scott Niedermayer, Martin Brodeur, Petr Sykora, Patrik Elias, Brian Rafalski, Scott Gomez, and Colin White.
So I went as far back as 1982-83 and found that in the 24 seasons since then, 14 of the Calder Trophy winners did, in fact (unless I'm wrong! And if I am, let me know!), lead in rookie scoring. These are: Steve Larmer, Mario Lemieux, Luc Robitaille, Joe Nieuwendyk, Brian Leetch (the only defenseman to have done so since 1983), Sergei Makarov (the oldest rookie of the year), Teemu Selanne (most productive season ever by a rookie), Peter Forsberg, Daniel Alfredsson, Sergei Samsonov, Scott Gomez, Dany Heatley, Alexander Ovechkin, and Evgeni Malkin. Patrick Kane would make it 15 out of 25.
Two of the 10 who weren't leading scorers was certainly surprising. OK, goalies and defensemen, I understand. But Pavel Bure did not lead rookies in scoring back in 1992 and won rookie of the year anyway. Chris Drury's teammate Milan Hejduk had more points but didn't get the trophy. We could see a repeat of 1999, should Jonathan Toews get more votes than Kane.
So while my thought has some value behind it, it's not that big of a gap. 14 out of 24 isn't a dominating percentage and there is precedence in recent seasons - as seen with Bure and Drury - that the Calder Trophy winner may not necessarily lead rookies in scoring. But it does happen more often than not. Therefore, all this research means that Kane's got an edge based on prior seasons. My statement is technically correct - depending on how big of an edge is an edge. And I'm not going to delve into that. One last bit to stretch this out. In doing this, I also decided to breakdown the Calder winners by position: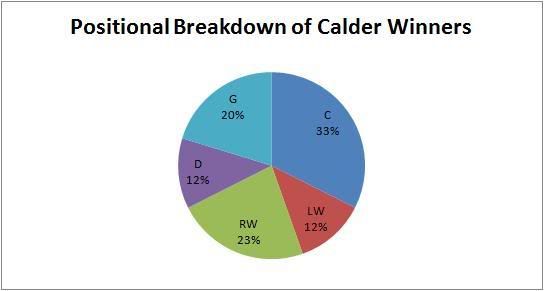 Well. Centers and right-wingers certainly have done well over the past 74 awards. And that will continue given our finalists are centers
Jonathan Toews
and
Nicklas Backstrom
and right winger
Patrick Kane.
Labels: 2008 Offseason, Hockey - General