Tuesday, August 05, 2008
Jamie Langenbrunner: In Recent Seasons
Today, let's take a closer look at the recent history of
Jamie Langenbrunner.
I've done something similar for Sergei Brylin.
I'd like to make this a somewhat regular-sometimes feature for various Devils whenever I think there may be something interesting in there. However, the purpose of this isn't to show that Langenbrunner is starting to run out of steam at age 33 - this will won't show that at all. Actually,
the driver for this is a comment in this recent post (aside from the MST3k-style names).
In response to a comment, I stated that 20 goals would be far more reasonable for Langenbrunner in terms of expectations. While I said that then, would I be right? (And would such fine readers such as yourselves see that some comments could lead to content sometimes?) And either way, what would be a reasonable set of expectations?
This is always a difficult question for a player like Jamie Langenbrunner when what he brings to the table isn't easily quantified. Or quantified at all. This includes his defensive abilities, his leadership, and his work ethic. You really can't discount his clutchness -
something James Mirtle even noted when Jamie returned last season.
Fortunately (or not), the question has to do with production and that's always quantifiable. Ultimately, hockey is a results-oriented business so let's look at the last 7 season's of Jamie's production.
This chart of his last 7 seasons' production is particularly interesting. Remember the following: Langenbrunner was traded to the Devils in 2001-02 at the trade deadline that season; and
NHL.com's
stats section doesn't have time on ice or shifts per game stats before the 2002-03 season anymore.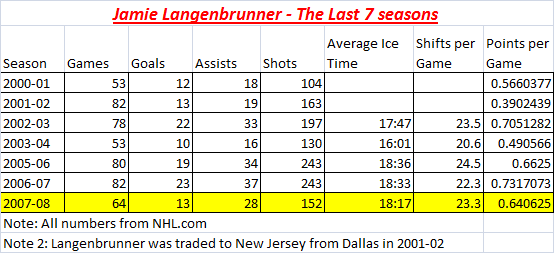 First thing of note: he sets a career high in points in his first full season with the Devils. Seriously,
here are his career numbers.
While the Devils were generally struggling with scoring that season, Langenbrunner really raised his game for the benefit of the team. He shot more than ever did in his career then, he came one goal short of tying his career high, and showed he deserved the amount of time he was getting. Clearly, the Devils traded Jason Arnott and Randy McKay to get him more than
Joe Niuewendyk
(17 goals, 28 assists). Langenbrunner followed that great season with a fantastic playoffs. Combine this when you consider his solid defensive work and he truly showed he was a prototypical Devil - hard work, solid defense, and, hey, even some scoring. A much better performance than his previous 2 seasons with Dallas.
Second and related to the first: Not all of these things alone necessarily lead to consistent scoring. His average ice time per game was his second highest in his most productive season; yet it was his second lowest in terms of shifts per game. Also, while Jamie topped this total number of shots taken with a whopping 243 to lead to his most points per season, it was only in his
second
season of taking that many shots did he break that plateau.
Third: When you take a look at each full season as a Devil, it's clear that outside occurrences has hindered or helped Langenbrunner scoring. His first full season was a breakout year. He had every reason to show to his new team that he can bring a lot to the table and did as such, meshing very quickly and very well with John Madden and Jay Pandolfo. His second season was marred by a nasty knee injury and that led to a lot of inconsistent play. His third season was a rebound year, with a better knee and a year without NHL hockey to get back in the 50-point plateau and earn plenty of minutes in all situations. His fourth season was his best yet in terms of production, even with a drop in playing time, thanks largely to his chemistry and success with Travis Zajac and Zach Parise as linemates. In his fifth season, Langenbrunner started the year hurt and various line combinations - including a return of the PZL Unit (a.k.a. ZZ Pops, Puzzle Line, Pretzel Line, etc.) led to an inconsistent year of production for the new captain. In the good years with New Jersey, Langenbrunner was generally healthy, had some good linemates, and turned his hard work into results. In the bad years with New Jersey, injuries have played a role. With Dallas prior to that, I do not know - sorry.

So what of all this? Overall, considering the injuries, let's take a look at the points per game. Langenbrunner has been up and down a bit, but he averages about .64 points per game in his 5 seasons with New Jersey. Take out the 2003-04 season with the knee injury and Langenbrunner averages at least that much in points per game. Meaning he'll score, but not often enough to be a "go to" guy for scoring - acceptable as a second line scorer. He'll shoot quite a lot (albeit frustratingly inaccurate at time), which something he's really improved on prior to his time with New Jersey, but it's not going to go in as much as we'd all like it to be. He's never been much of a goal scorer in his career as it is. If you see him on the first line, it's either because he's got a good thing going with some players for a couple games, or no one else has taken the role as their own. While we saw that last season, I certainly hope it doesn't continue (see Brian Rolston). Again, we're talking about a player whose best season was only 60 points. That's not first-line caliber.

So in terms of what we've see Jamie's a second-line scorer. Simple enough, right? Not quite. Langenbrunner has always been responsible defensively, and as a result, he receives minutes on the shorthanded situations as well as the man advantages. For example, he had an average of 1:53 per game on the ice on the penalty kill last season. With Rolston and Gionta both on the roster, as well as the darkhorse Dainius Zubrus, Langenbrunner may be pushed out of the second line and be featured on the third line with Madden and Pandolfo. That wouldn't be such a bad thing and we could see whether the J-Line still has some spark from way back when. But with an increased focus on defensive hockey on that third line, Langenbrunner may not get the offensive opportunities that he would on the second line.

Therefore, in terms of expectations, we should be fairly pleased if Langenbrunner picks up about 45 points. He produced 41 in an injury-shortened season under a new coach and some inconsistent play. That shouldn't be asking for too much. 50 and up is definitely possible (and maybe even 20 goals!) if Langenbrunner is in the top 6 for most of the season (and not in a constantly revolving lineup) and he's healthy. That said, I really don't think he's going to get super-hot and drop 60-70 points for New Jersey; nor is he going to tally 25 or more goals. Langenbrunner's not getting any younger and he was never that kind of player to begin with. Fortunately for us, he doesn't need to be - he just needs to keep working hard, keep playing his way, and continue to lead the team.

Labels: 2008 Offseason, Devils Analysis, Devils Issues
Comments:
I guess it was my comment that brought this on. You were right, 20 goals is more reasonable. I didn't realize that he never broke 25. I think my point is still valid though.I just don't think that he leads by example. there are games when he is completely invisible. Stevens was never like that. but, I guess you take the good with the bad. So, if he's good in the lockerroom, and there is no one better on the devils, he's it.
Thrawn: Exactly, it caused me to say something without really checking up on it. Given that there's not much else going on, it was a good exercise - so thanks.
I don't think it's fair to compare captains of the Devils with Stevens unless they are remotely close to Stevens' level. It'd be like saying, "Mike Mottau isn't a smooth skater or passer as Scott Niedermayer." It's true, but a bit obvious and not really fair. Ultimately, you are right again, it comes down to how the players feel about who's leading and if they support Jamie, then it's gotta be Jamie.
Post a Comment
<< Home